<![CDATA[A logo is the 'face' of your company. It's how consumers relate to your business and begin to recognize and trust your products/services. That's why its important to have a great logo.  However, sometimes small businesses tend to skip this step or settle on a subpar logo in order to get the ball rolling. This lack of responsibility can comprise a company's reputation.  A professional business should look professional. Ignoring basic graphic design principles, relying on trends or simply having too many fonts will have your company looking amateur and untrustworthy. For example, the use of clipart in a logo gives the consumer a sense of predictability and tends to not be as memorable.  Relying on color makes in difficult to print on different types of mediums like print ads or promotional products and something overtly complex may confuse someone and can be hard to digest. That's why its crucial for your business' success to invest in a logo.  We already established that every great logo shares these characteristics: simple, appropriate, timeless, adaptable and unique. Below are 6 additional logo design tips for your small business.
RELY ON THE PROFESSIONALS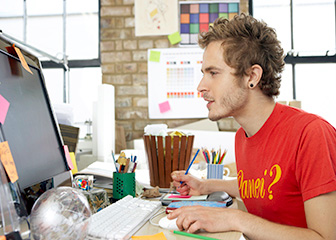 I know as a small business owner we sometimes cut corners here or there to keep startup costs down, but your logo shouldn't be one of those.  Instead of creating a logo on your own, hire a graphic designer and give them your input.  A graphic designer will take your thoughts into consideration and present you with options you can later decide on. Putting your logo in the hands of an amateur will surely ensure that your logo will not stand the test of time and will need to be recreated down the road. A professional graphic designer will make certain you have a unique and memorable logo that looks professional, which will help consumers begin to build a relationship with your brand.
BE SURE TO HAVE A VECTORED LOGO
Another perk to hiring a profession graphic designer for your logo is to make sure you get your final logo in multiple formats, including a vectored version of your logo. Why is this important? Because a vectored version of your logo can be scaled as big or small as you need it without losing and definition, guaranteeing the best quality image no matter what you decide to print your logo on.
GET A SECOND (OR THIRD) OPINION
What looks good to you (and your graphic designer) may not necesarily mean its whats best for your company.  You aren't trying to please a few, but the masses.  So before deciding on a final logo its important to get the opinions of as many as possible, from family and friends, to coworkers, even strangers.  Without a second pair of eyes looking at your logo from another perspective, you may end up with something looking like this…
Do you see a building and the sun? I didn't think so…
USE THE RIGHT TYPOGRAPHY
People tend to forget about typography when it comes to a logo.  While an image is nice, the right typography can have just as much of an impact .  Some of the biggest brands and companies in the world rely only on a typeset for their logo, just think about it:
Google, Walmart, Visa, Sony, CVS and Coca-Cola
. Experiment with different fonts and elements like the styles, weight, tracking and leading and see which has the most impact.  As a general rule, its typically safe to use up to two different fonts, but remember no one looks professional using Comic Sans in their logo…
YOUR LOGO SHOULD WORK ON LIGHT AND DARK BACKGROUNDS
When choosing a logo, its typically presented against a white background. Yet, your logo should be diverse enough to be able to be pasted on any type of background. Â If not, your options may be limited when producing additional marketing materials for your company.
BE DYNAMIC
A logo shouldn't be static, but dynamic.  It should flexible enough to use in different layouts, color combinations and leaves room for innovation.  Being dynamic with your logo allows for quick changes and eliminates the need to recreate your logo in the future.]]>